Lindsey Buckingham & Christine McVie
Original air date June 17, 2017 | Time 59:00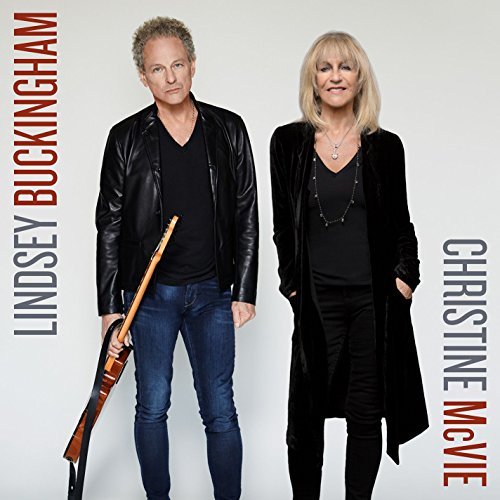 These two songwriters have been members of Fleetwood Mac during their height and contributed some of the band's biggest hits. They have just released a duet album, with all the members of Fleetwood Mac except Stevie Nicks who is taking a break.

Buckingham McVie "In My World" composed by Lindsey Buckingham
Fleetwood Mac "You Make Loving Fun" by Christine McVie and "Go Your Own Way" by Lindsey Buckingham from "Rumours" 1977
Fleetwood Mac "say You Love Me" by Christine McVie 1975 and "Big Love" by Lindsey Buckingham 1987
Solo work
Christine McVie "You Are" and "So Sincere" McVie from "In the Meantime" 2004
Lindsey Buckingham "Seeds We Sow" and "In Our Own Time" Buckingham from "Seeds We Sow" 2011
Buckingham McVie
"Carnival Begin" by Christine McVie and "Love is Here to Stay" by Lindsey Buckingham from "Buckingham McVie" June 2017
The Allman Brothers Band - Gregg and Duane
Original air date June 10, 2017 | Time 59:00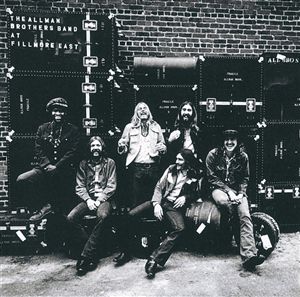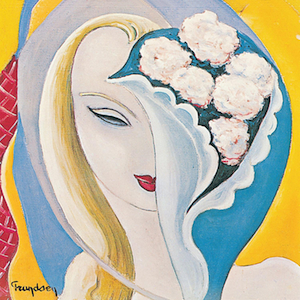 Gregg Allman passed away in May 2017 at 69 yrs old. Duane died in a motorcycle accident when he was only 24 yrs old back in 1971. Duane was a master guitarist and his idea was to have 2 lead guitars and 2 drummers in the band. In spite of the band's genre of "Southern Rock", they achieved a reputation for a "jam" band through jazz-like improvisations. Duane developed his chops playing as a session sideman in Muscle Shoals for Wilson Pickett, Aretha Franklin, King Curtis, Boz Scaggs and others, before devoting himself full time to the Allman Bros. When he met Eric Clapton they found a deep rapport and Duane played lead guitar on LAYLA and was invited to join Clapton's band, but he stayed with the Allman Bros to the end.
Thoughts for a Gray Day: Hendrix, Pretenders, Sting, David Crosby, Tom Petty, Cloud Cover
Original air date May 6, 2017 | Time 59:00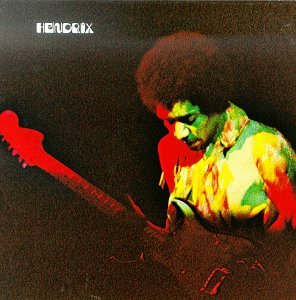 What's on Your Mind? Thoughts for a Gray Day
Rain: Jimi Hendrix. Romance: The Pretenders with Chrissie Hynde. Immigration: Sting and David Crosby. War: Tom Petty and the Heartbreakers and Bob Dylan. Chaos and collapse: Cloud Cover and David Crosby.
EARTH Day - Joni Mitchell, Pete Seeger, Neil Young, Peter Gabriel, Marvin Gaye
Original air date April 22, 2017 | Time 59:00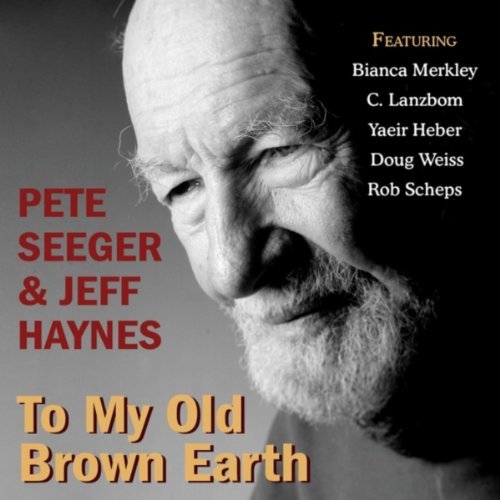 The first Earth Day was in 1970! Joni Mitchell "Big Yellow Taxi" from "Ladies of the Canyon" 1970; Cat Stevens "Where Do the Children Play" from "Tea for the Tillerman" 1970; Pete Seeger and Jeff Haynes "To My old Brown Earth" by Pete Seeger from "The Storm King" 2013; The Beatles "Mother Nature's Son" 1968; James Taylor "Before This World" 2016; Neil Young "Indian Givers" from "Peace Trail" 2016; Neil Young & Crazy Horse "This land is your land" and "Mother Earth" 1990; The Police "Walking In Your Footsteps (Live)" by Sting 2008; Peter Gabriel "Down to the Earth" from "Wall-E"; Marvin Gaye "Mercy, Mercy Me (The Ecology)" by Gaye from "What's Going On" 1971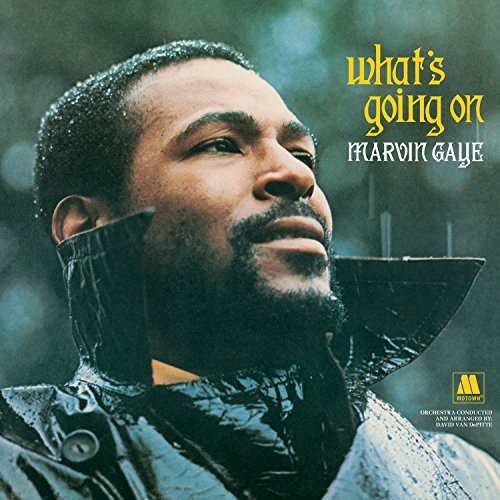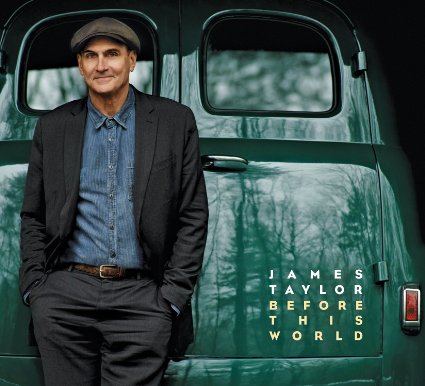 Ed Sheeran DIVIDE
Original air date April 15, 2017 | Time 59:00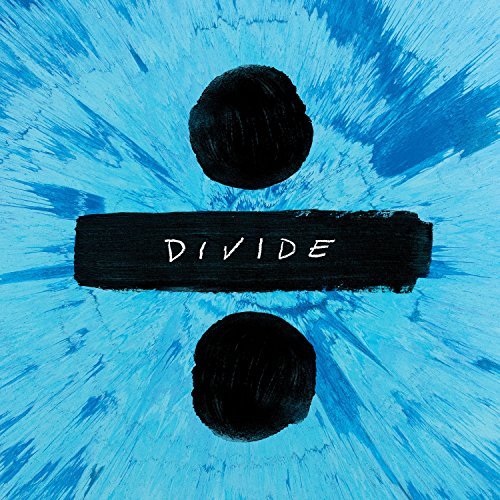 Ed Sheeran's new album was released in Jan 2017 and two songs have topped the Billboard 100 for weeks "Shape of You" and Castle on the Hill". We hear two musicians from Ed's new record label gingerman Records, Jamie Lawson and Foy Vance. Ed is a red-headed Irish man and is 26 yrs old.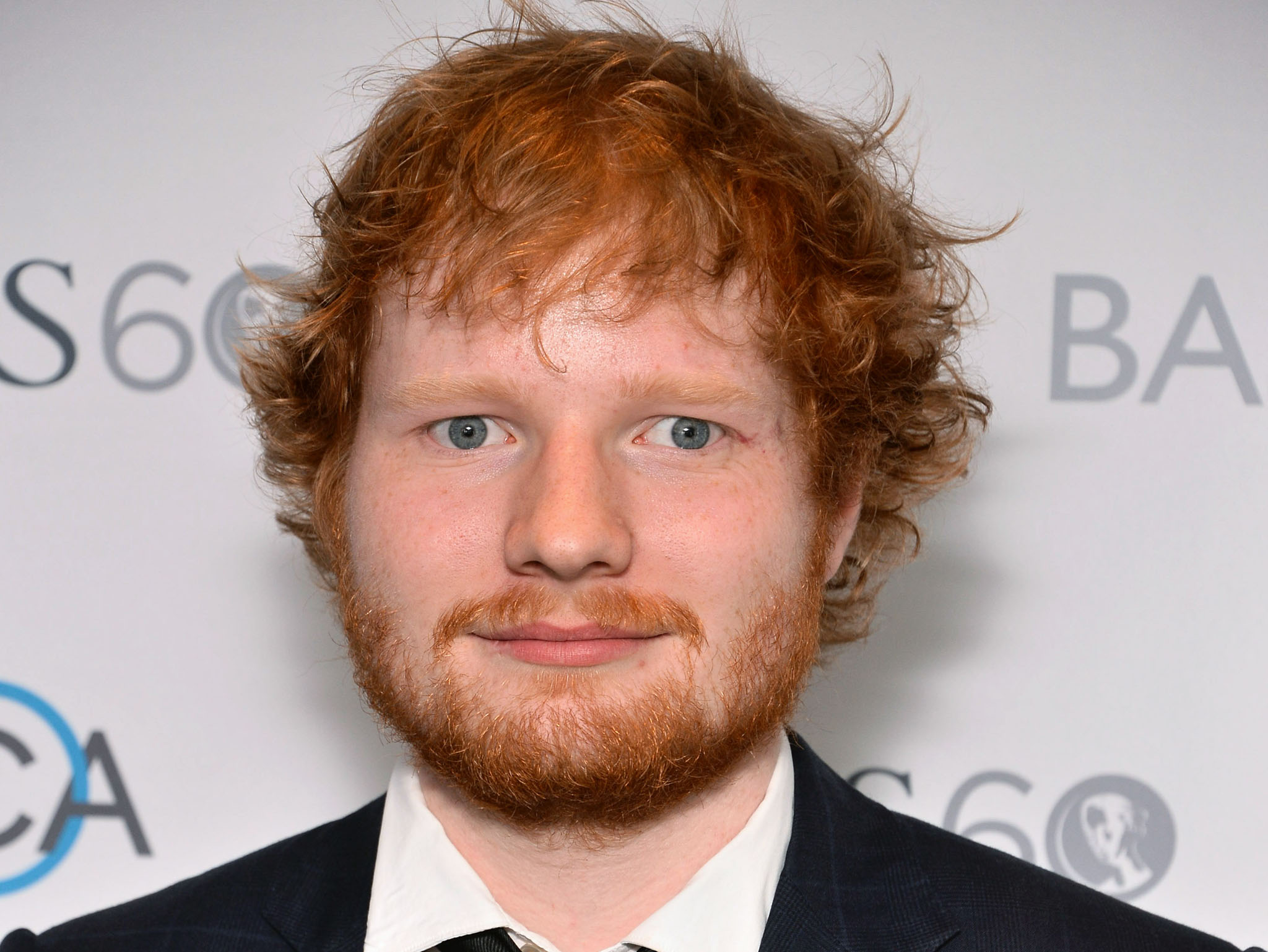 Chuck Berry Is Rock n Roll: Rolling Stones, Beatles, Elvis
Original air date April 1, 2017 | Time 59:00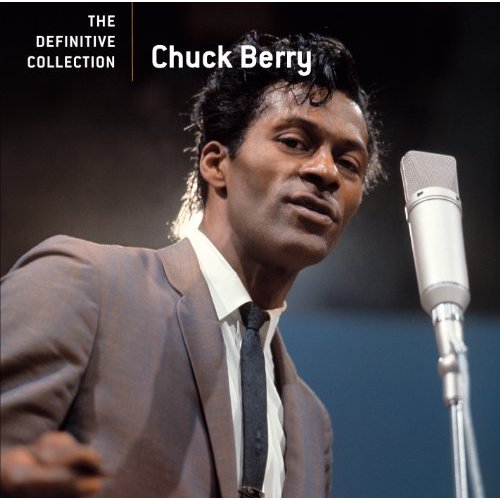 Born in St Louis MO, Chuck was 90 yrs old when he passed away at his home in March 2017, only 10 miles from the city where he was born. We hear the British musicians who were infatuated with American rock from the 50's - The Rolling Stones, The Beatles and recordings by Elvis Presley. Chuck Berry was inducted into the Rock n Roll Hall of Fame when it opened in 1986 and was honored for taking the lead guitar lines of Country Western and fitting them into a R&B song, creating the sound and performance energy of Rock n Roll.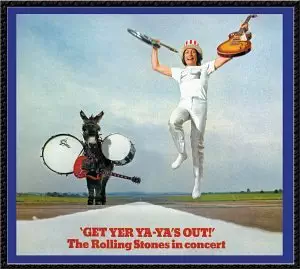 Music and Poetry of Ireland: Van Morrison, U2
Original air date March 18, 2017 | Time 59:00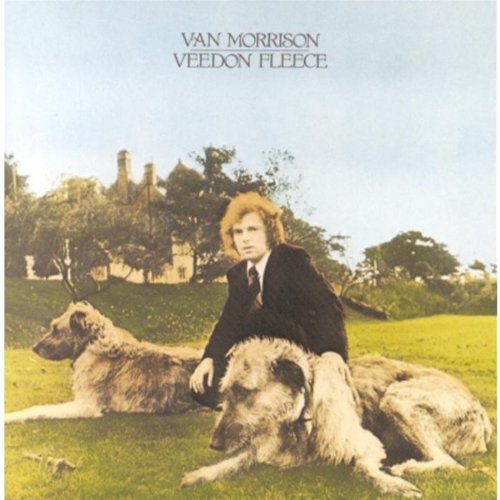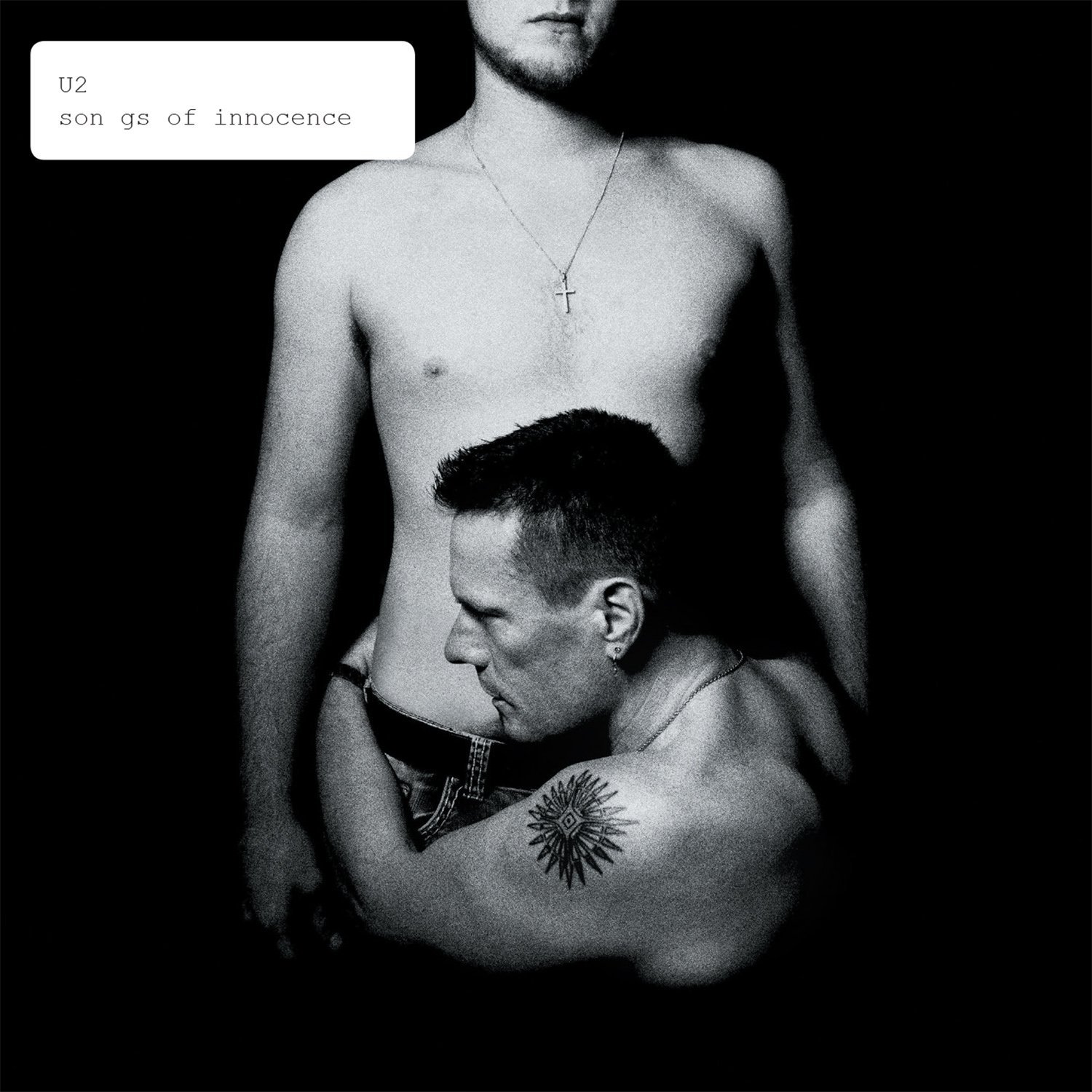 "The Streets of Arklow", a city on the east coast of Ireland, by Van Morrison from "Veedon Fleece" 1974.
Willaim Butler Yeats was born in Ireland in 1985 and we hear two of his poems set to music: Judy Collins "Isle of Innisfree" composed by William Butler Yeats, Hamilton Camp from "LIVING" in 1971; Joni Mitchell "Slouching Towards Bethlehem" from "Night Ride Home" 1991.
Van Morrison was born in Belfast Ireland: "Pagan Heart"from "Born to Sing, No Plan B" 2012; "Into the Mystic" from "Moondance" 1970; "Going Down to Bangor" from "Keep Me Singing" 2016.
U2 is from Dublin, lead singer Bono was born there in 1960, we hear "Sunday Bloody Sunday" from LIVE in Germany 1983 and then from the recent 2014 Songs of Innocence "The Miracle (Of Joey Ramone)" and "Iris" a song dedicated to his mother.
Songs from Ten Strong Women
Original air date March 11, 2017 | Time 59:00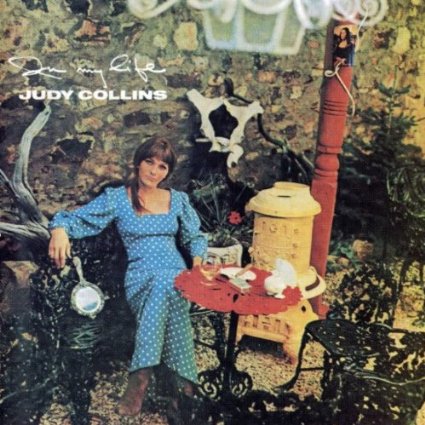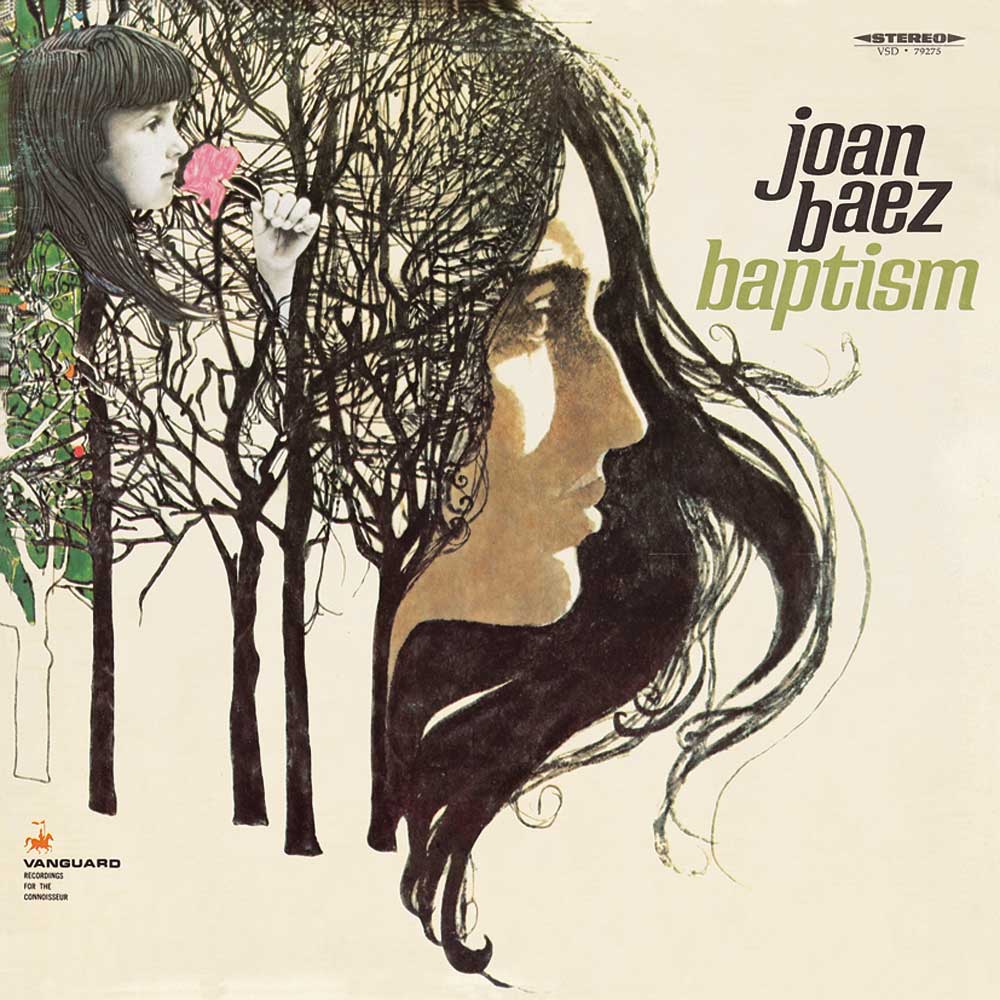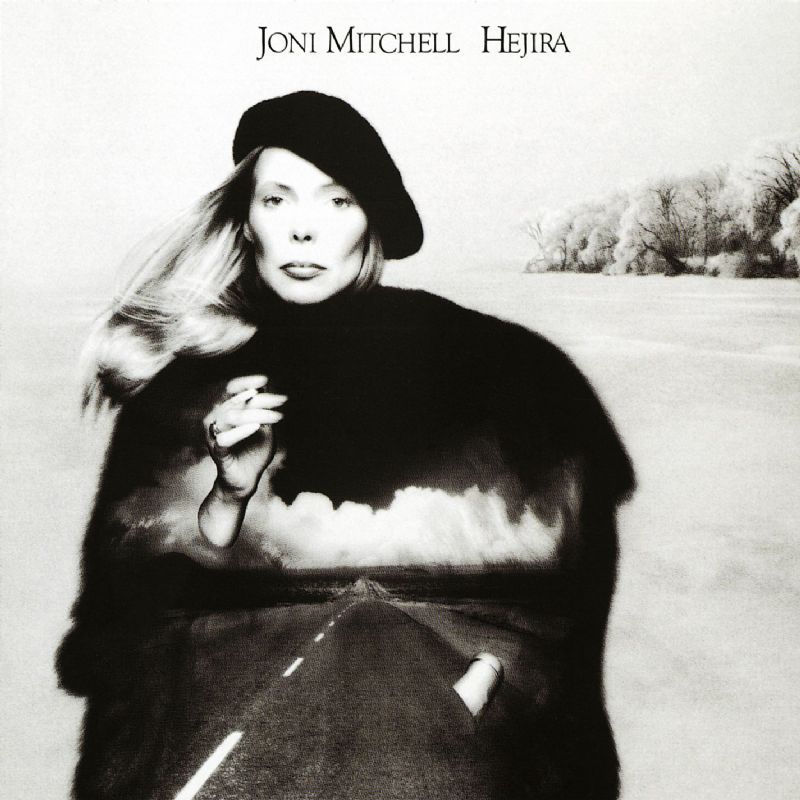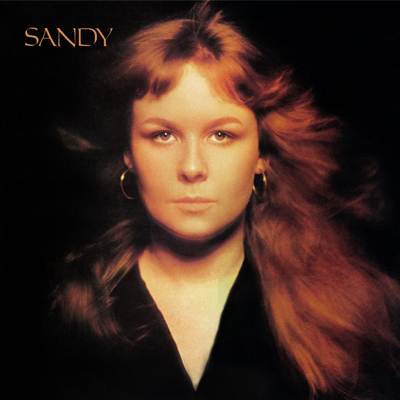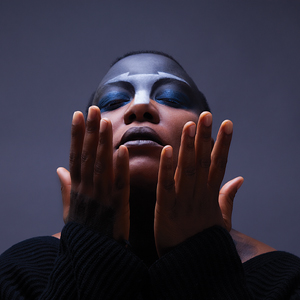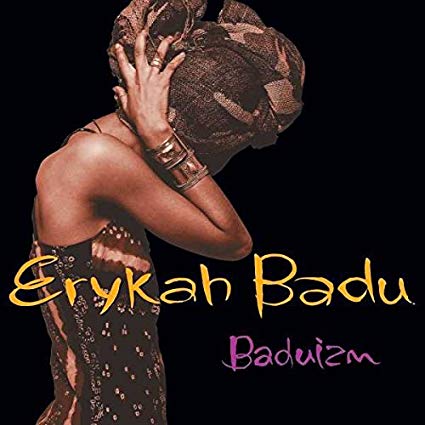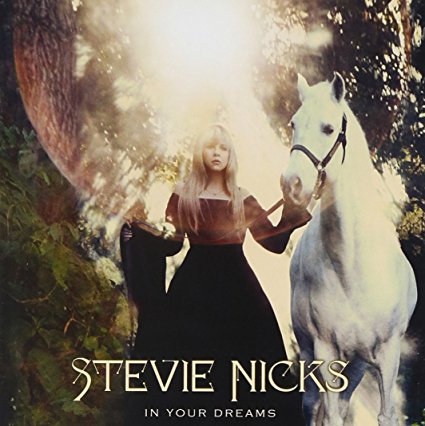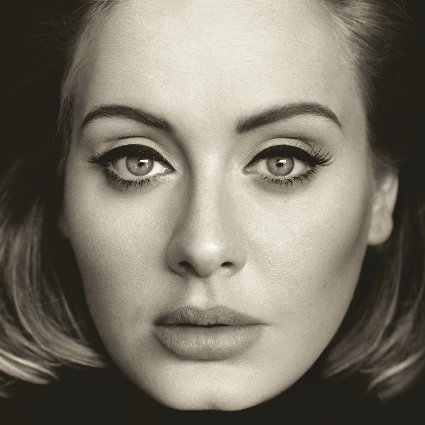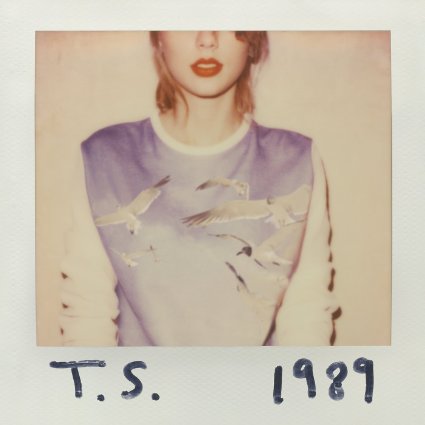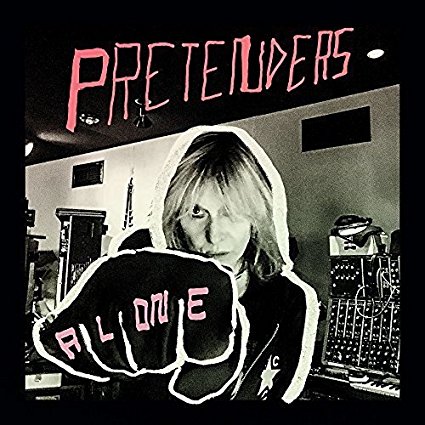 Judy Collins, Joan Baez, Joni Mitchell, Sandy Denny, Meshell Ndegeocello, Erykha Badu, Stevie Nicks, Adele, Taylor Swift, Chrissie Hynde
LIVE Recordings: Carole King, Phil Ochs, Frank Zappa, Police
Original air date March 4, 2017 | Time 59:00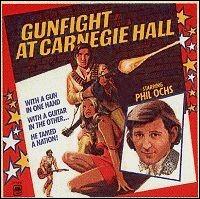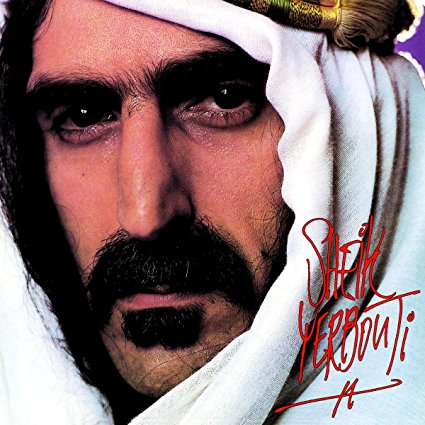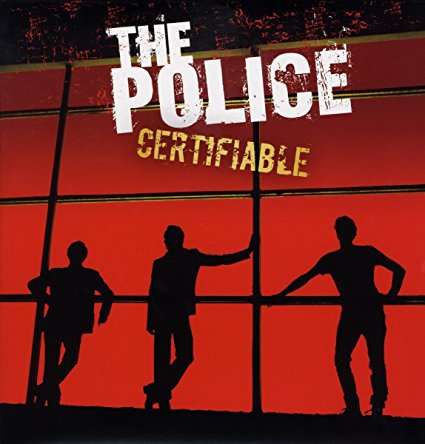 Carol King was 28 yrs old when she released he frist solo album "Tapestry". Six months later she did a Live Concert in Carnegie Hall in June 1971.
The previous year Phil Ochs did a live concert at Carnegie Hall, the recording is called "Gunfight at Carnegie Hall".
Frank Zappa used clips of live recordings and mixed them together in the studio with pre-recorded tracks and we hear Sheik Yerbuti from 1979.
Finally, three vituosos perform Live In Buenes Aires and we hear The Police from Dec 2007 "Certifiable".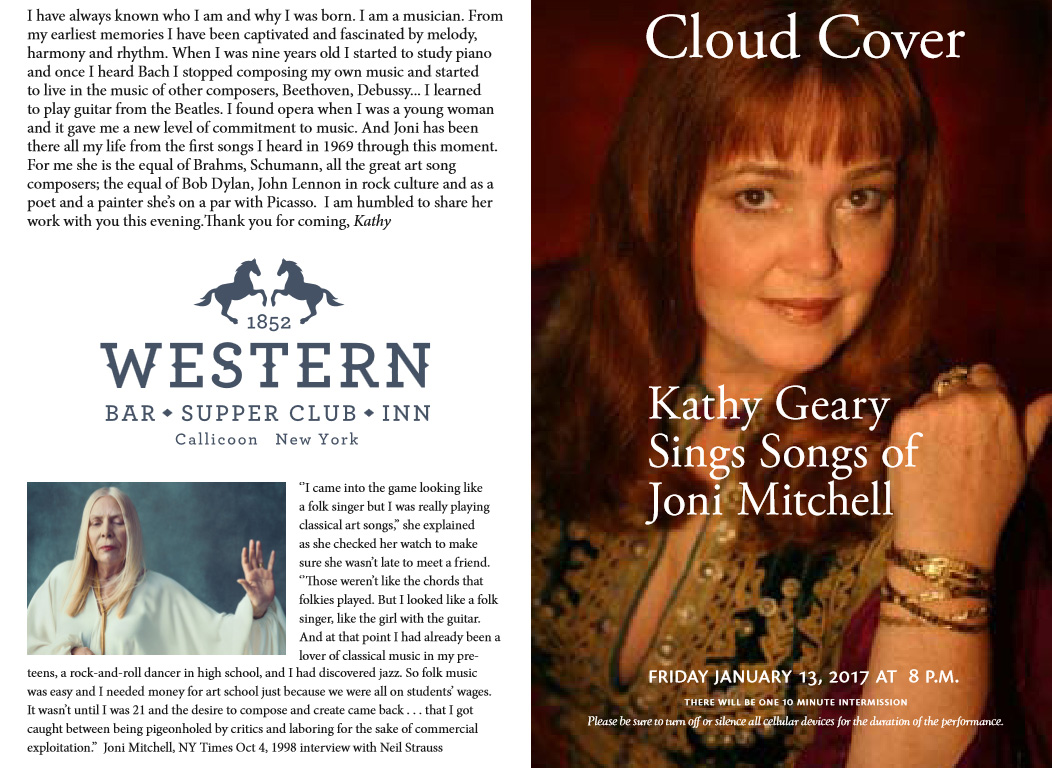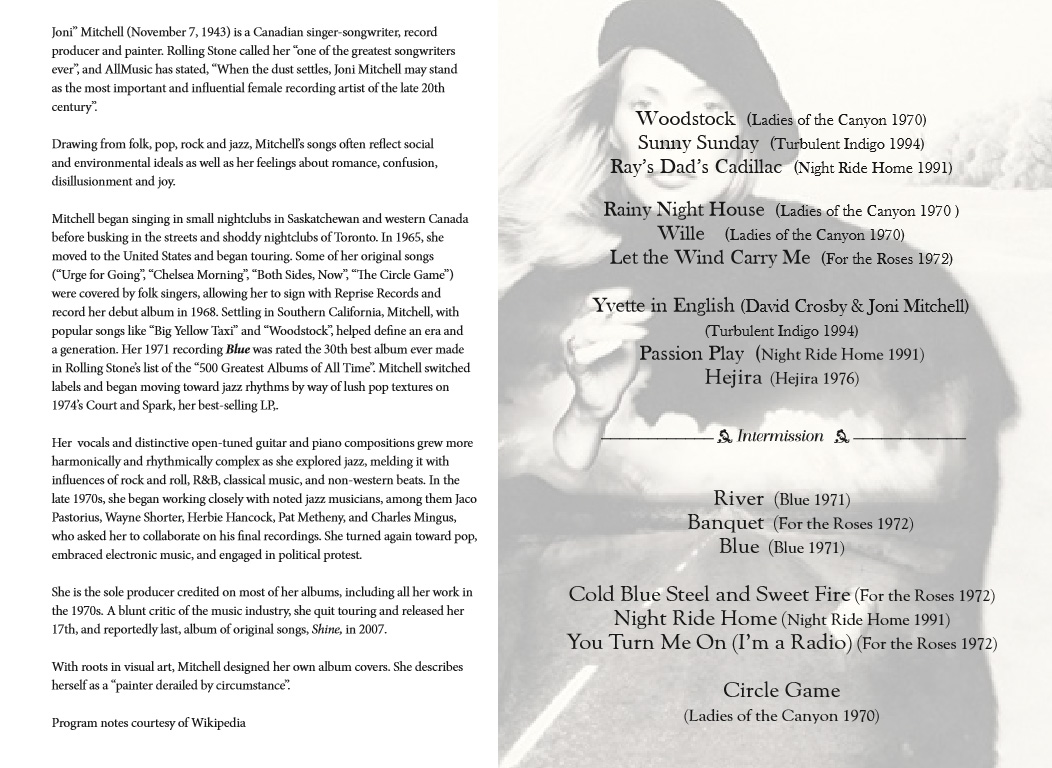 "Willie" (Joni Mitchell) Kathy Geary, voice and piano, at the Western Jan 13, 2017
---
"Let the Wind Carry Me" (Joni Mitchell) Kathy Geary, voice and piano, at the Western Jan 13, 2017
---
"Woodstock" (Joni Mitchell) Kathy Geary, voice and guitar, at the Western Jan 13, 2017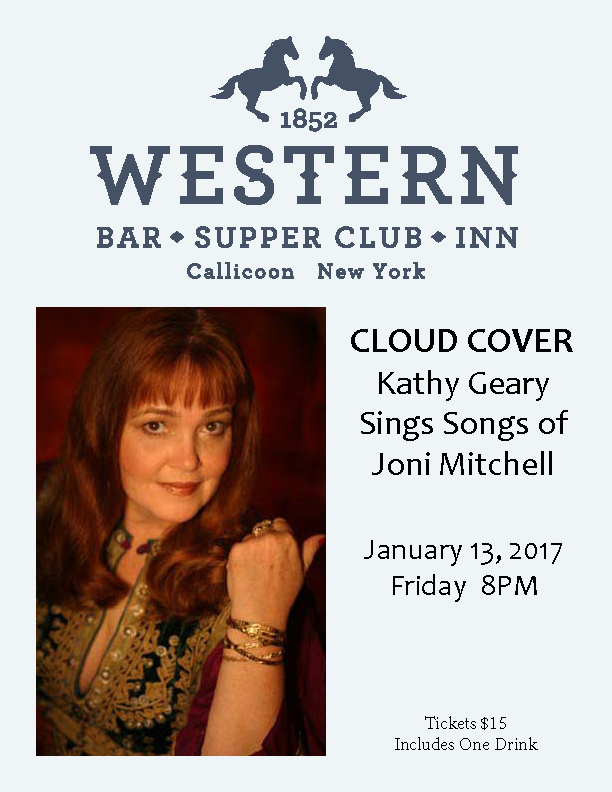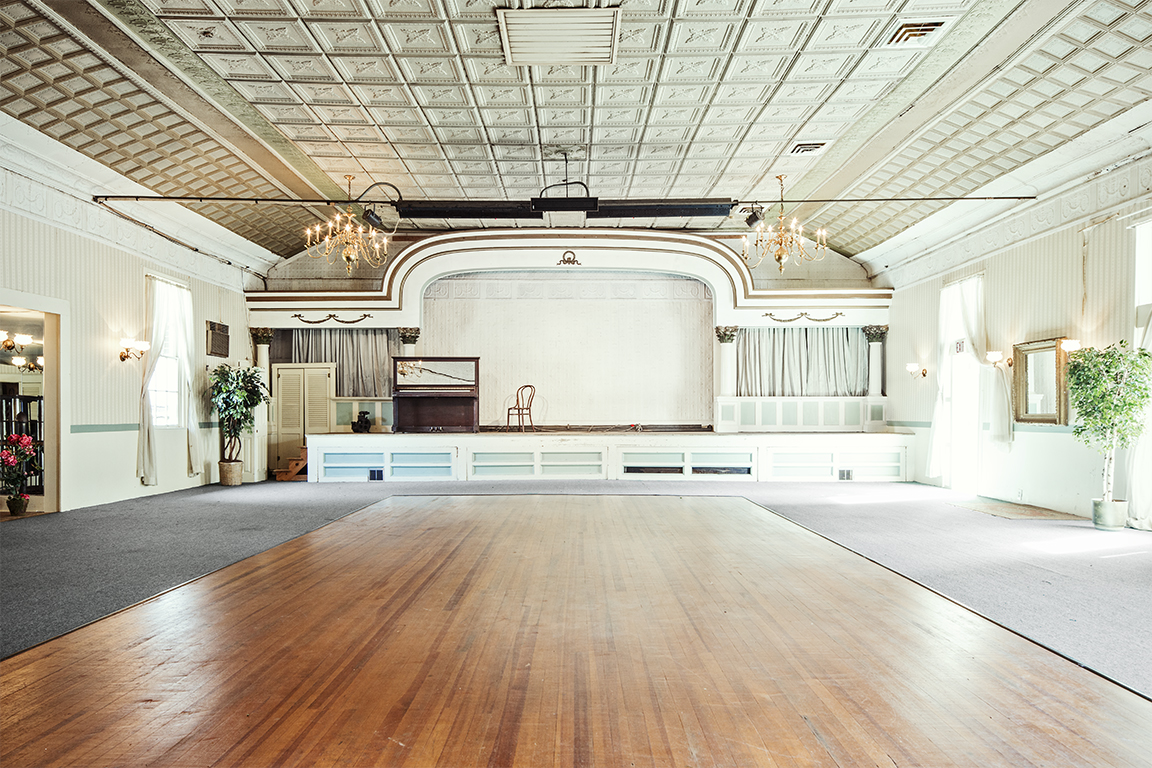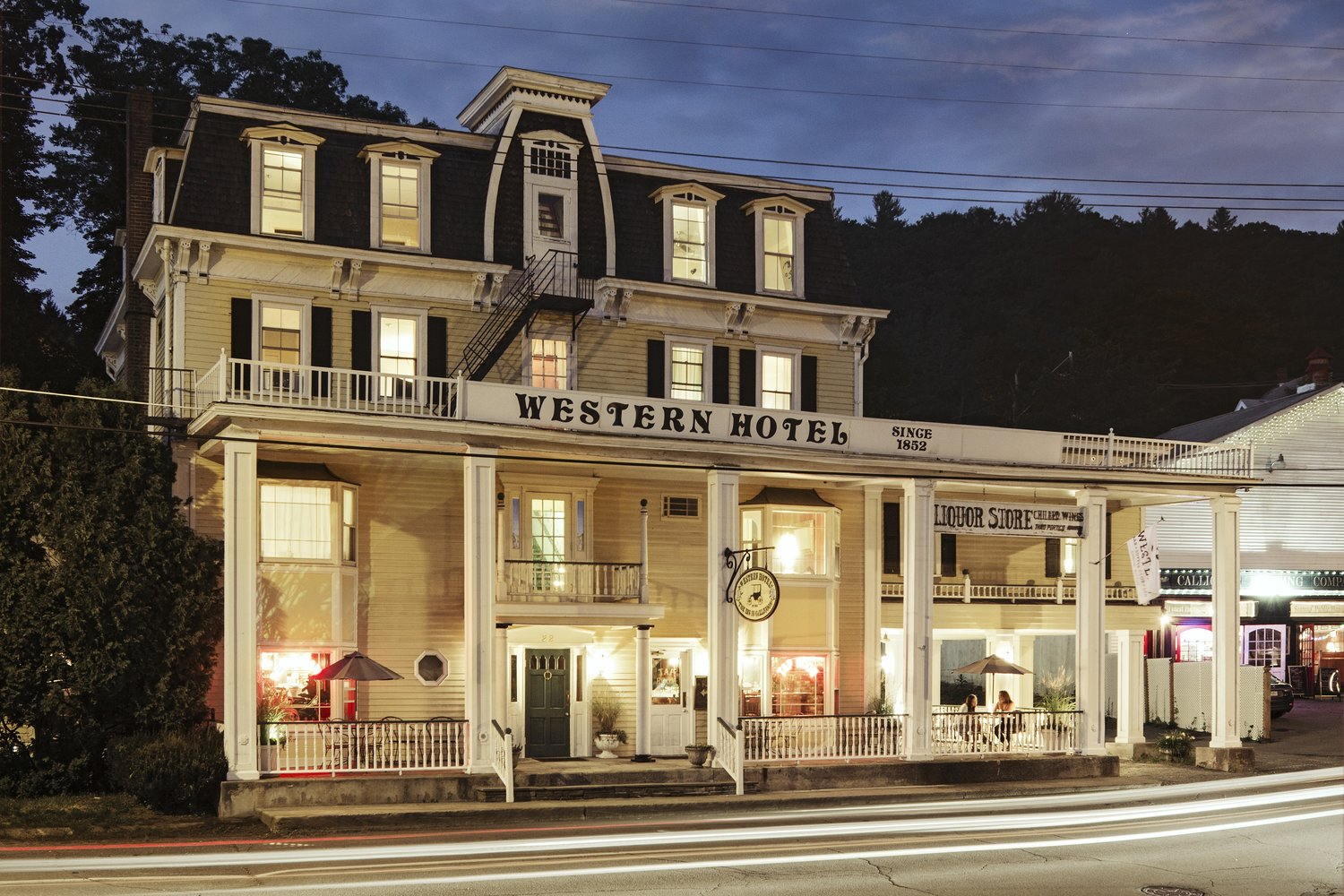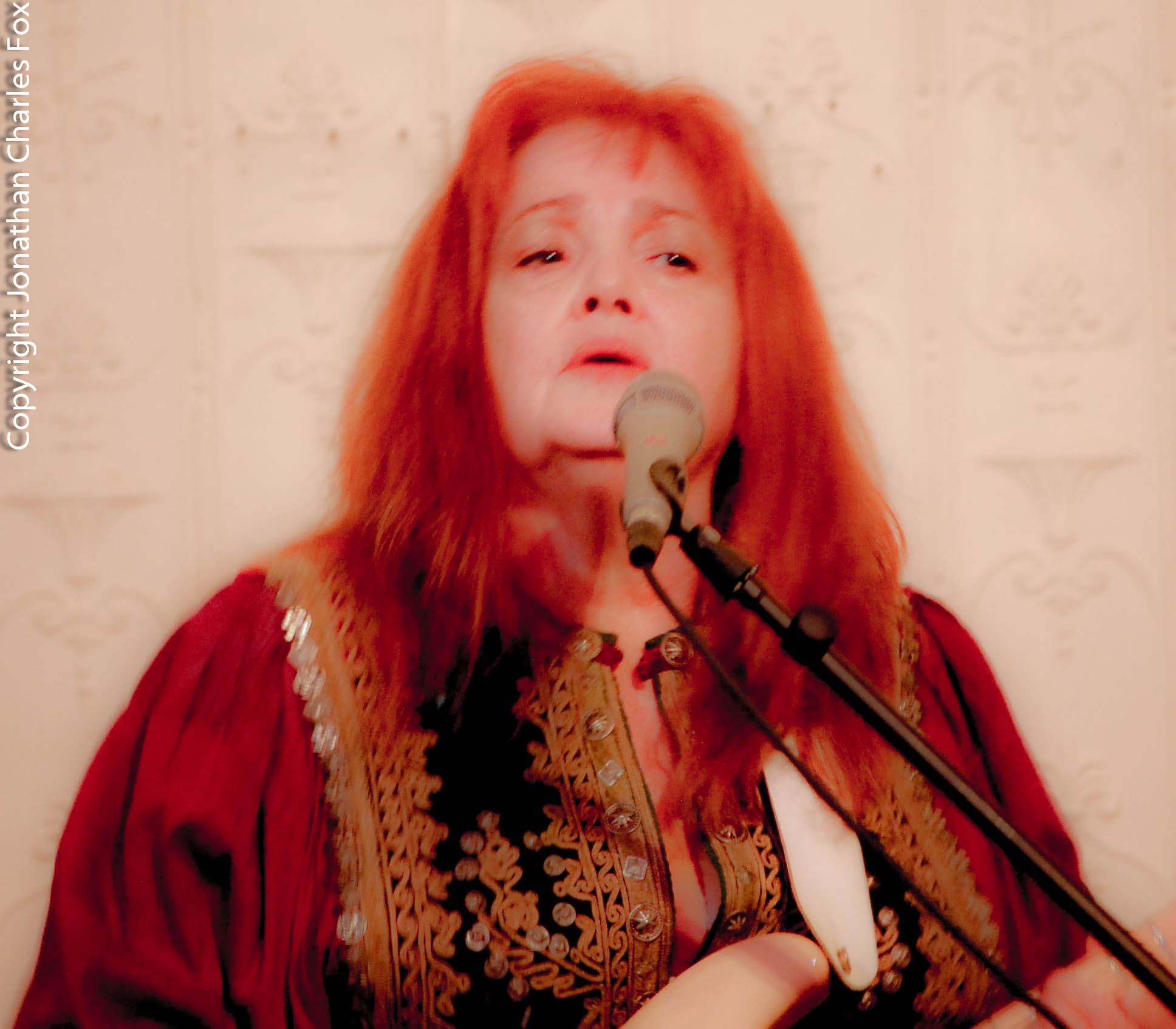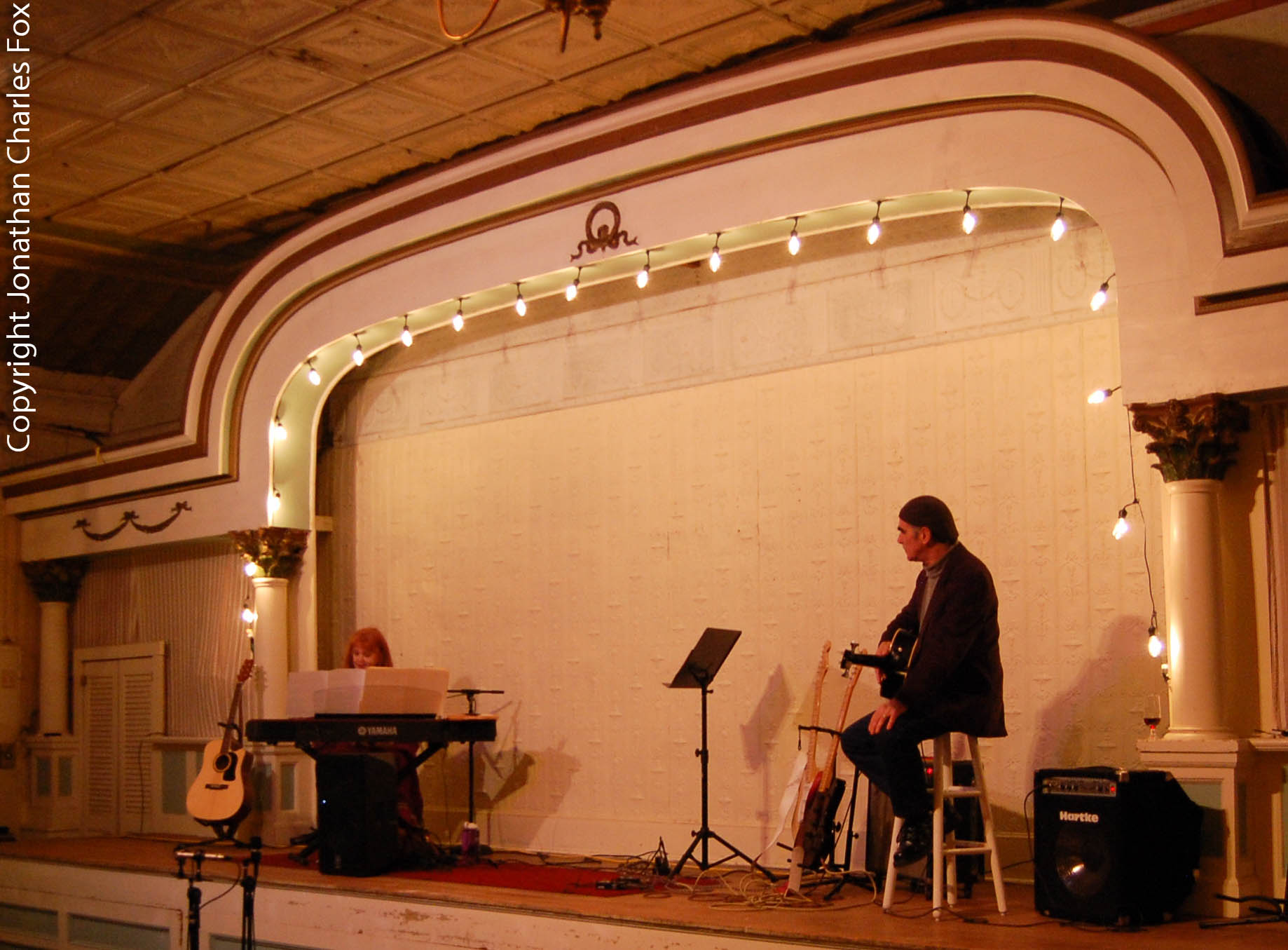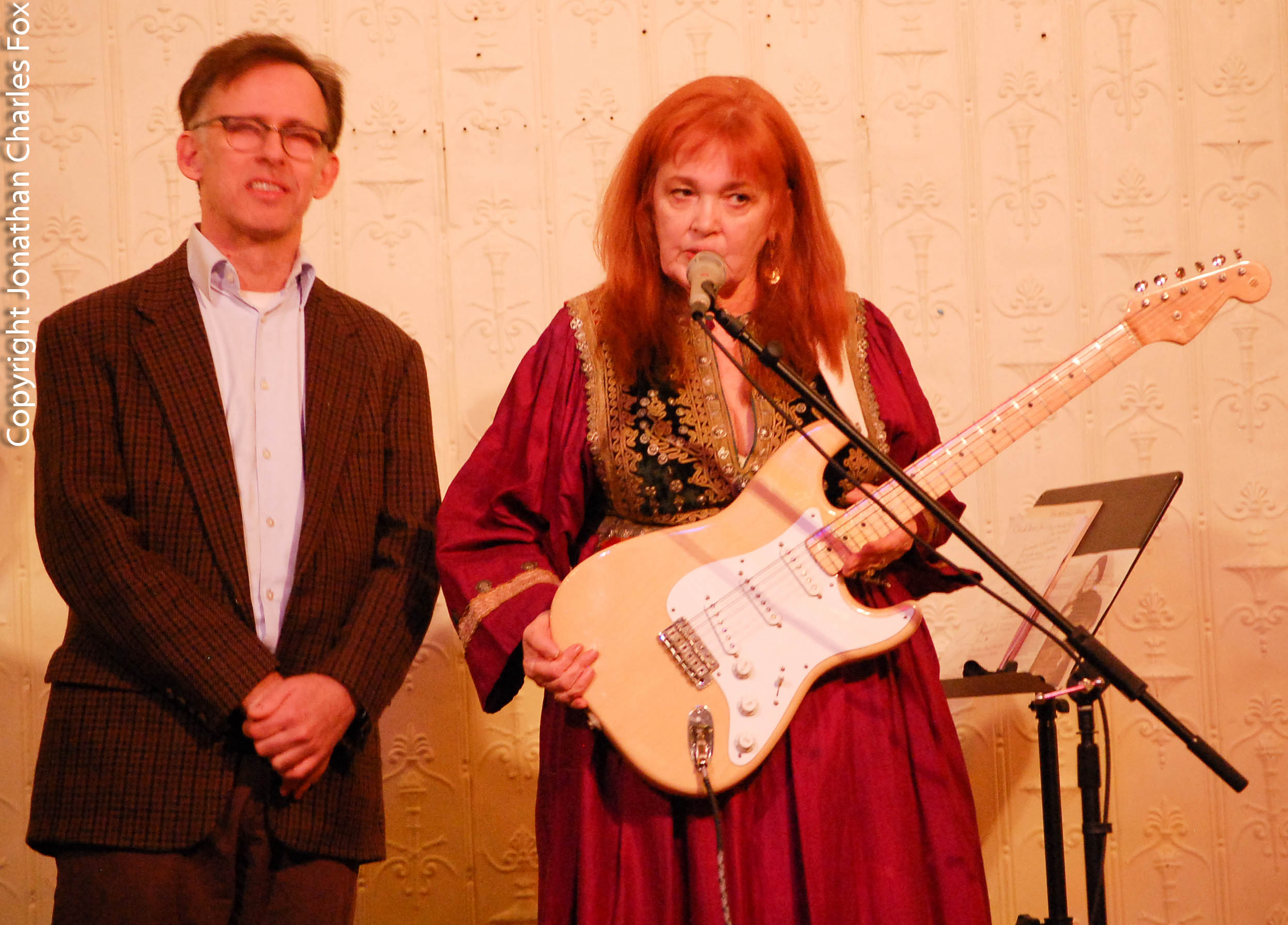 Soldiers and Presidents
Original air date Feb 11, 2017 | Time 59:00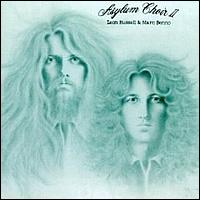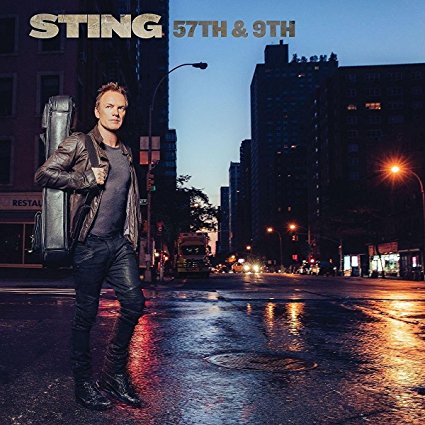 Sting "Pretty Young Soldier" from 2016's "57th & 9th"; Fotheringay "Banks of the Nile" by Sandy Denny from "fotheringay" in 1970; Leon Russell & Marc Benno "Ballad for a Soldier" from "Asylum Choir II" in 1971; Eric Burden "Invitation to the White House" from 2013's "Till Your River Runs Dry"; Crosby, Stills, Nash & Young "Let's Impeach the President" from 2003; Neil Young "Light a Candle" from 2009; Neil Young "Show Me" from his recordings at the Dakota Pipeline protests with the Native American Tribes in 2016 on "Peace Trail"; Joni Mitchell "Shine" from 2007 her last album to date and one of her saddest and bleak views of the world; Neil Young & Crazy Horse "This land is your land" composed by Woody Guthrie.
Sting, The Pretenders - Newest Recordings
Original air date Jan 28, 2017 | Time 59:00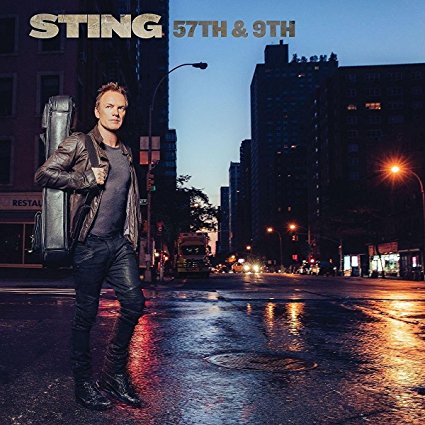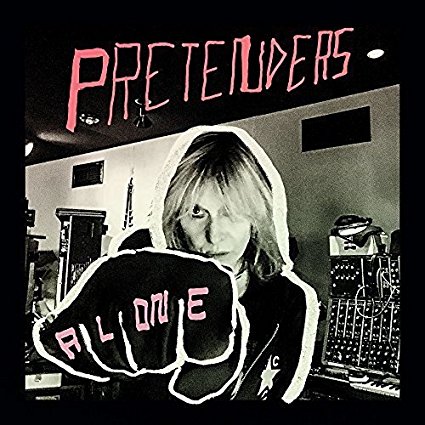 Sting released a new album of rock oriented music in Nov 2016 "59th & 7th", referring to the intersection in Manhattan where the recording studios are located. We hear "I Can't Stop Thinking About You" which is very reminiscent of the Police song "Don't Stand So Close to Me". So we hear them back to back with the Police LIVE in Buenos Aries 2007. Sting's previous project was a full length Broadway musical called "The Last Ship" and we hear "The Night the Pugilist Learned to Dance", a style far removed from rock n roll showing the breadth of his composition styles. Back to his newest record, he addresses the refuge crisis in "Inshallah" and the climate change in "One Fine Day".
The Pretenders is Chrissie Hynde singing and songwriting, and her latest recording was done in Nashville with the Black Key's Dan Auerbach producing, bringing in country and blues musicians for the sessions. We hear the title track "Alone" in contrast to the previous 2014 album "Stockholm" with the Swedish production creating a totally different sound. Back to the Nashville recordings we hear two sincere love songs "One More Day" and "Death is Not Enough".