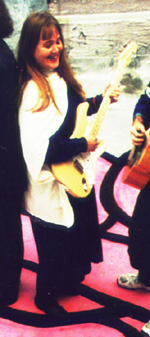 Current News
March 1996 through December 1997





SEPT - DECEMBER 97 I've begun a new project called KATHY's REALITY and am continuing my life-long musical saga. This page will be continue to be devoted to the Bleecker St Reality Band since the music created by that band will always have a life of it's own!


JUNE 97 - Life takes it's time unfolding itself, you have to walk the road to see where it goes. You can you guess what I'm leading up to. The Bleecker band is on the shelf for awhile. We played gigs like crazy in Dec 96 then David and his wife Debbie decided he needed a little time off. So our bass player Don Martin and myself did some gigs together as an acoustic duet. We're going to pursue that further. Don likes R&B and soul and jazzy stuff and has had a real influence me, I want to change my style and am hibernating on what that means for an opera/pop diva like myself. Our original lead guitarist Kevin Giordano has moved back from Florida and we're in touch. He's into brazilian guitar chops and he's writing for SWING, a twenty something magazine.


OCT 96 - We've been talking to people from Arabesque Records and Angel/EMI about releasing our recordings. Since Kathy has a classical background as a singer, her voice appeals to both these prestigous companies. Arabesque handles classical and avante-garde jazz while Angel/EMI has long established a standard in the classical realm and is perhaps ready for some changes.


JULY 96 - We are pleased to annouce that Matthew Fortnow of the William Krasilovsky firm is now representing us. We played a showcase for him at Euphoria Studios and we both liked each other very well. He is representing us to EMI regarding releasing a single of the Patti Rothberg song "It's Alright" which appears on her new CD "Between the 1 and the 9" as an intimate song with acoustic guitar. We do a version of it with a full band. We've also recently added a song to our set by Tony Conniff called "The Days of Miracles" which you can hear at our next gig at THE RODEO BAR on Sept 3. More to come soon.


MAY 96 - It saddens me beyond words to acknowledge the death of Walter Hyatt, a generous musician and talented songwriter, moving singer and good friend. He died in the plane crash in the Everglades that has been all over the news. I spoke to him at his home in Nashville when we began recording "Deeper Than Love", one of Walter's songs that I knew from hearing "Uncle Walt's Band" perform during the fifteen years that I lived in Texas. Say a prayer for him in the best way you know. On a lighter note, Don Martin has started playing bass with us.


APRIL 96 - POWER STATION has closed it's doors. When the POWER STATION offered us a recording contract it changed our lives. We were raised up, each of us who recorded on UNREAL. The technical standards were the highest, the level of professionalism is untouchable anywhere today. You just can't get this kind of sound from an ADAT in your kitchen. The big old studios are going fast, we were blessed to be able to spend about three hundred (count em') hours in one of the best. There's trouble in paradise and when I went in to pay my respects (right after the new moon on Thursday April 18) I never expected to be handed the master tapes for three 24 track analog demos plus the two 32 track digital tapes containing the eleven tracks from our album, six analog mix tapes, all the track sheets and set-up disks for the SSL and NEVE, all the dats, mic settings, mixing sheets. Everything a record company usually keeps under wraps is turned over to us directly. This kind of thing just doesn't happen!

Farewell POWER STATION. Jim Campagnola played soprano and tenor SAXOPHONE with us on our most recent gig at the Bitter End (APRIL 10). We were on our toes, having a master in the house. There is a video and live tapes are available.


MARCH 96 - The band was recently in a "variety show" at THE WESTBETH THEATRE CENTER 151 Bank St (March 11). The evening was a heady mixture of stand up comedy, accapella jugglers and us. This is where Ray Davies recently had a sold out performance and they still had the signs up! David always reads the Post over coffee and bagels in the morning, but on March 7 somehow he missed the fact that this website was included in Lisa Robinson's daily column "Music on the Web". A friend of ours from the NY band "The Prostitutes" called the next day to congratulate us and that's how we found out!
New York's Bleecker St Reality Band takes full advantage of the web to introduce themselves. Having just finished reocrding at the Power Station, they'll appear live at the Westbeth Theatre Center March 11. This site provides background information on band members and the music as well as a list of links to their own favorite "irreverent" web sites. -- Lisa Robinson, NY POST
NEWS FLASH - This is a strange leap year and therefore somehow appropriate that Joni got "Pop Album of the Year" at the Grammy Awards. Let's get high! This is great news. I missed the broadcast but heard she was "stunned". So was I.
Photo above is of Kathy Geary up on the roof with a new Fender Strat!
Check out the Band History page.
back to Bleecker St Reality
kgeary@cloud9.net