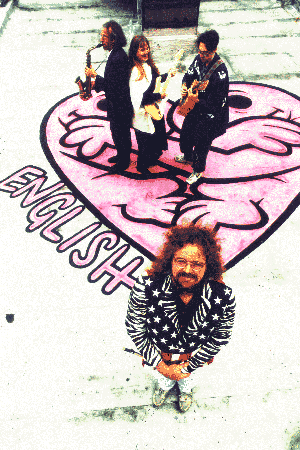 Once upon a time Ron asked Kathy if she was gonna ask him to do the album cover when and if such an event should ever occur. "Of course" she said, and time passed by until one day Ron came back and asked Kathy again if and when such a time should arrive if she was gonna ask him to do the album cover. She said, "Of course" but Ron wasn't finished. He said that things were gonna be the same but different in that Ron was gonna ask her to do some music for his album cover. So Ron asked Kathy if she was gonna do a song about him for his album cover and she said "I've known you for years and years and unfortunately not once have I ever written a song about you."

So Ron was forced to oblige with some poetry of his own. And in addition he slipped in some songs by a friend of his, Charles Herold, whom although Kathy had never met him, Ron had assurred her that all this material was there just waiting to be brought forth.

Kathy was surely inspired with Herold's work, in spite of it's biting cynicism, and she took his words and wrote a Joni Mitchell song about the fickle and harsh reality of being an artist in the lush SOHO canyons and galleries of lower Manhattan. However when the evil and sharp tongued Herold heard the beautiful music he was struck dumb as if he had tasted the bitter fruit of insult and spit back at Bleecker St Reality Band and declared that the song would never appear on the Ron English compilation CD!

Ron had certainly got himself in some deep shit. Here were two of his best friends sparring over him. You might ask did he instigate this for publicity, even though no reporters were present, maybe as a trial run to further his private artistic struggle and deep turmoil within? Or had he just made a terrible blunder? You decide.

As it turned out BOTH versions of the Ron English Train appear on the ENGLISH 101 CD.

---
Jan 1996 photo by Suzanne Plunkett, Jersey Journal Newspaper: Ron English and his Mahattan rooftop art, sax player from Belle Sky, Kathy Geary and Charles Herold.