MUSICIANS - Biographies
Mark Fiedler piano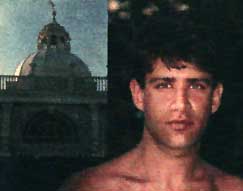 A brillant man, eccentric and unnerving! A concert pianist with a most expressive touch who was living in the same building as I was on Bleecker St when I first made the move from opera to pop-rock. We'd sing and play our way through Schubert and Strauss and when the Bleecker St Reality Band started it was only natural for Mark to try his hand at the keys. Before I had a bass player he filled in the bass line on the piano at the first couple gigs we ever did at a bar called The Speakeasy on MacDougal St. in the West Village.

In 1996 we formed a short lived ensemble with Jeremy Adelman on trumpet and Catherine Bent on cello doing art song repertoire with jazz lines in the trumpet and cello. The Reality Ensemble lasted for about five months of wonderful rehearsals. But I could never find a club that would book us for gigs and without that kind of motivation the spirit left us.

At present Mark sings with Robert Wagner and myself with the Riverside Choral Society. We have a most fine conductor named Patrick Gardner and give two or three concerts a year. On Friday, May 8, 1998 at 8 pm we're performing Britten's Cantata Misericordium and Durufle's Requiem at the Church of the Heavenly Rest on the corner of 90th and Fifth Ave in NYC. Hope to see you there!