Revelations Book II
CD release 1999 on WHICH Records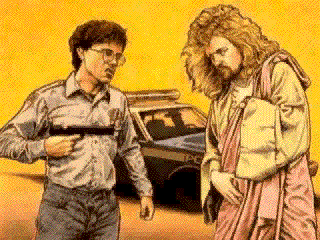 "I Am Here" music by Kathy Geary, lyrics by Ron English
Kathy Geary - vocals, piano
Don Martin - electric bass
Stephen Henderson - snare drum, congas
Andrew Williams - trombone
Serena Jost - cello
Produced by Kathy Geary & Ron English
recorded at Smash Studios, NYC 1999


I was born in the Winter
In the Spring I heard the call!
After a long, hot, restless Summer
Came my Fall.
But what I said then was not all I had to say
and now the time has come to renew this passion play.

So listen closely while I tell you
what will surely come to pass.
These days before us?
Will surely be the last.
Those who have oppressed you will taste the salt of your tears.
And the righteous few alone will persevere.

When the sun absorbs the darkness
And the light dissolves your fears.
These things I say
Will become crystal clear.
And when they ask you where to find me
Tell them "I am here".


Read the full concept story on the Ron English website Popaganda.
I AM HERE, CLOUD COVER (Kathy Geary) 3:34
GODWOMAN, PHOEBE LEGERE 4:16
TOMORROW'S CHILD, DANIEL JOHNSTON 2:18
SEED OF GOD, THE REVEREND VINCE ANDERSON 1:53
HOLY TERROR, CLOUD COVER (Kathy Geary) 4:13
GOOD NEWS, RAILROAD JERK 5:02
I AM THE ALL, SARA HICKMAN 3:56
I AM SHE, KATHY GEARY
THE THUNDER/PERFECT MIND, EARL NORMAN 2:24
THIN ICE, PATTI ROTHBERG 4:16
POPGOD, ILLNESS 3:12
ISCARIOT THE PATRIOT, MOJO NIXION 1:43
SUCKER BORN AGAIN, REVEREND VINCE ANDERSON & HIS LOVE CHOIR 3:18
READ BETWEEN THE LIES, THE DAVID ELLIS GROUP 3:35
CRUCIFIED, SEAMONSTER 2:53
HOLE IN THE SKY, SEXPOD 4:16
TOURIST ATTRACTION, WAMMO 3:10
MAN OF LIGHT, THE TOMORROWPEOPLE 4:08
ETERNITY'S END, STEINWAY 5:15
The first tracks recorded for this project in Dec 1997 were "The Seed of God" by the Reverend Vince Anderson and "Holy Terror" by Kathy Geary both with lyrics by Ron English. Ron said he got his ideas from the gnostic texts. Rev Vince Anderson went back to do one more track called "Prophet for Profit" and Kathy Geary also did "I Am Here".
SEED OF GOD
Music for the Seed of God was written and performed by the Reverend Vince Anderson, a man in his early 30's, an East Village icon who you can catch every Sunday night in NYC at the Ave B Social Club between 6th & 7th Sts. He's like Tom Waits and Johnny Cash with a huge dose of Jesus fervor mixed in. In the studio he stood on a wooden crate and stomped his feet for the rhythm. We had a mic in the box. He had a broom stick in one hand which he pounded on the floor for even more umph. The guitar player, Kevin Giordano, stood in the same recording room and his amp was just miked from there. We used their first take. Don Martin came in later that afternoon and laid out the bass line. Then Vince added some more percussion with a shaker he had made from parts of a box on the street below. Then we moved on to the second track.
HOLY TERROR
Music for Holy Terror was written and performed by Kathy Geary. I wrote the music at my home during three sessions. At first Kevin and Vince came along and their song took shape then just Ron was with me when I closed in the final version of Holy Terror at the piano. This is the first time I've played the keys with a band, although for the first 20 yrs of my life I thought of myself as a pianist and studied classical rep extensively.

Back to the studio, where Adrian Harpham came in to play drums. I had never played with him before, except in a rehearsal, but had heard him many many times in his work with Patti Rothberg on her first album for EMI "Between the One and the Nine". Don Martin was on bass, who I have worked with for over a year now and once again the first take was it. Bob Windbiel came in later and did two guitar passes and then I did the piano part. Fast work! Two basic tracks with overdubs in one day.

A couple days after that I wrote a choral piece to end the song. We originally had planned on a fade out but the ending groove was so cool that I didn't want to cut it. So, to tie into the religious theme I decided a chorus would be just the thing and envisioned a gospel type sound. However when I went to write the music that's not what came out. Instead I wrote what sounds to me like a quasi classical piece for SATB voices. Last time I heard something like this was lifetimes ago when the Stones did the chorus thing on "You Can't Only Get What You Want".

total time 65 min
All lyrics by RON ENGLISH
Music by the artists as listed.
Produced by Ron English and the bands.
© 1999 Ron Fuji Ltd.
Image of Christ © 1999 by Ron English

Contact www.POPaganda.com
Back to Kathy's Living Room